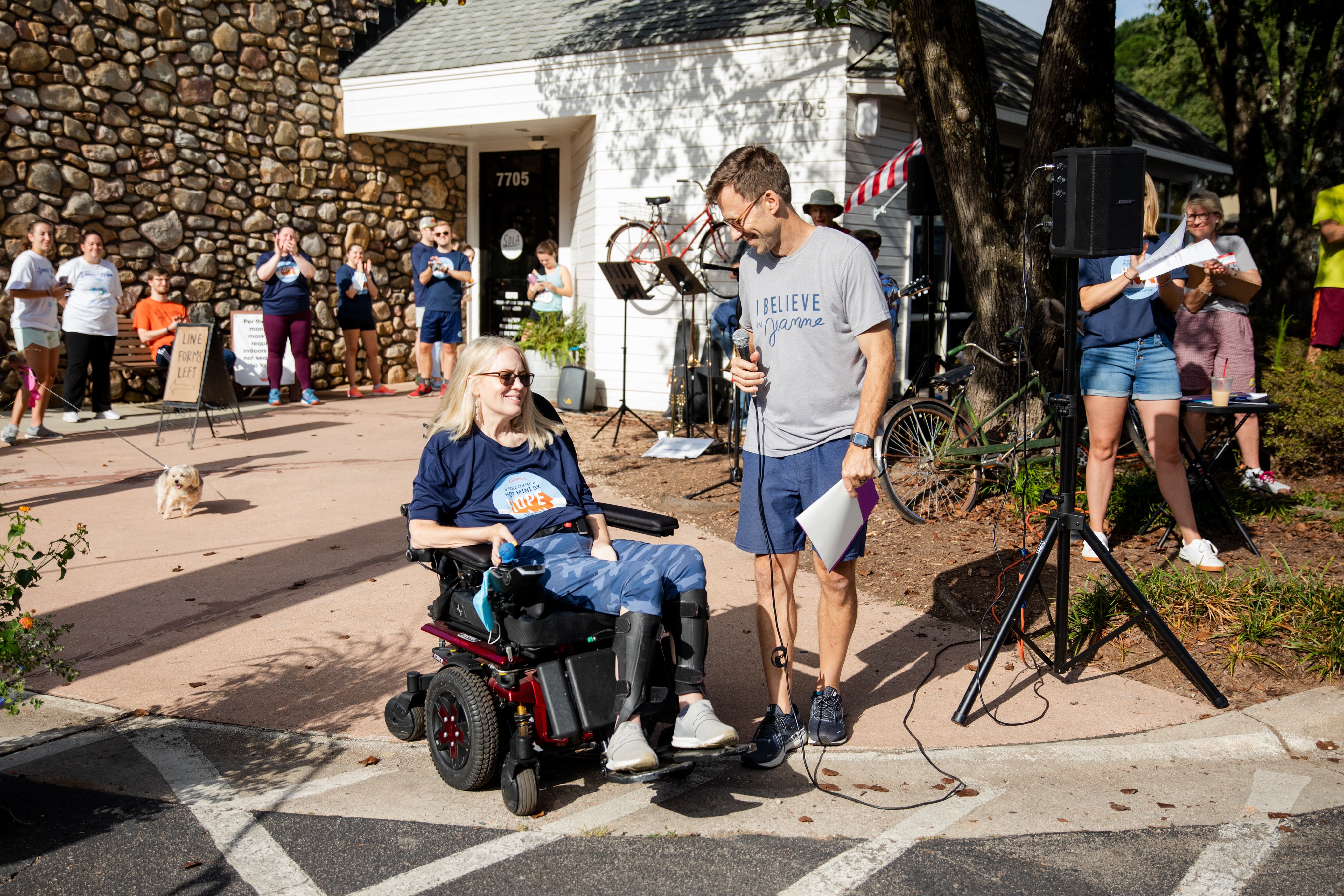 The Sola Hot Mini 5k is now in its tenth year! Sola was born in 2012 through the work of John and Jeanne Luther. Through their love and tireless efforts engaging those around them, Sola has become a cornerstore in North Raleigh.

In 2018, Jeanne was diagnosed with ALS, and began her walk of suffering publicly in the walls of Sola. Throughout her fight with ALS, Jeanne was selfless, brave, and consistently managed to serve those around her despite her growing physical inabilities. After 3 and a half years, Jeanne went home in April of 2022. This race is a way for our community to rally behind those who are suffering from an often non-discussed disease and bring hope to those who are suffering.

What is ALS?

Amyotropic Lateral Sclerosis, or Lou Gehrig's Disease, is a degenerative muscle disease in which the motor neurons stop responding over time. As the disease progresses, people lose all their motor functions-from tasks as simple as tying shoes or walking to the final progression of losing the ability to breathe as the lungs lose their muscular potency. The typical life expectancy of those with ALS is 3-5 years.

Those at the forefront of research in the search for a cure have one motto: ALS is not an incurable disease-it is an underfunded one. With so many funds going to research for other causes, ALS researchers are left in need of much funding to properly conduct their work. In fact, the Sola 5K was the largest single donation that ALSTDI, the premier ALS research facility, received in 2022. While we are honored, we are also saddened that our donation of only 120k was the leading spot. Our hope is to shed more light on the need for this research and rally our community behind finding a cure.

Our primary partner for making this race happen is the Team Drea Foundation. Team Drea is the organization of Andrea and David Peet, brave folks who have become close friends in our years fighting ALS together. Andrea was diagnosed with ALS in 2014 and within 8 months went from running marathons and half-Ironmans to walking with a cane. Andrea met her diagnosis head-on, purchasing a recumbent trike, going on to complete a marathon in all 50 states with an ALS diagnosis-the first person in history! Andrea and David's care for those around them and brave determination to spearhead research that will find a cure for ALS has made them invaluable partners and lifelong friends.



To date, this 5k has raised well over $500k in the fight to END ALS.

2023's race will be both an in-person and virtual event and all proceeds raised will be donated to help in the fight to end ALS. Our goal is to raise $200K in funds this year - let's get to work and we'll see you there!